Welcome! Here's A Bit About Kalahari RRs
Located in Mobile, AL begun in 1969, Kalahari Rhodesian Ridgebacks is dedicated to producing, not only, a good-looking dog, but a great companion animal and one who is athletic and sound of body and mind. We raise ONLY AKC registered Rhodesian Ridgebacks. I am a member of the Rhodesian Ridgeback Club of the US, Inc, I am a mentor for the club and I am an AKC breeder judge of Rhodesian Ridgebacks. In addition, I am a lifetime member of the Mobile Bay Dog Training Club and currently have 3 RRs in agility competition and training - LOVE it! I do enjoy going to UKC shows, they are great fun and a good training ground for puppies, but a UKC champion is not the benchmark that an AKC champion is.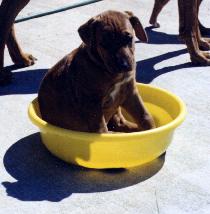 On this homepage, you will find lots of general information about dogs in general and Ridgebacks in particular. This site was created to entertain and educate you about the Rhodesian Ridgeback - a wonderful, versatile breed - but not necessarily the breed for you and your lifestyle! So enjoy looking around and watch out for those "clickable" links to more information! Some links will take you off this site, so use your back button to return here!
If you are looking for a pup, we don't have puppies very often - we are not in the business of supplying people with puppies! The only reason we produce pups is to have something for us to show. We do a lot of looking and studying different lines and pedigrees before making the decision to breed. Those people who are lucky enough to get a puppy can be assured of the best breedings we can make. Since this translates to a litter every 3-4 years, our puppy-people must have patience! If you'd like to keep up with the latest batch or planning of a litter, you can read all about on the PUPPY WATCH blog.

The most important thing to remember when buying a Ridgeback is not HOW MUCH IT COSTS nor IF ONE IS AVAILABLE.... it's WHO THE BREEDER IS - Know what to look for to spot those only in it for the money - YOUR money! Your investment in a puppy will hopefully be one that lasts 10-14 yrs, so a good breeder is essential to help you with advice and someone who will be accountable for the life of the dog. A fancy website doesn't mean they are responsible breeders! In this day and age, you must do your homework or run the risk of getting hooked up with a puppy miller - someone who always has a litter or more on the ground - that's a bad sign. The RRCUS Breeder's list is a good place to start. Everyone on there has agreed to the club's Code of Ethics for responsible breedings, care of the dogs and genetic health screenings.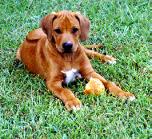 We are located outside the city limits of Mobile, Alabama on 4 acres of land. Our dogs are, first and foremost, our pets.We don't have a kennel - that's a pen or pens where dogs live full time. We have a "kennel prefix" - meaning that's a name we use to put before their name so people will know who the breeder is and indicates to others where you got your dog. All our dogs live in the house and are house-raised ( where else would you expect a great personal companion to be raised?). During the day, they have complete access to the yard, via a doggy door, to keep those pesky squirrels away from the bird feeders, not to mention the poor birds, too!

We don't post cute photos of puppies or dogs we've sold and pretend they are of our dogs at our house. We don't sell puppies on PuppyFind either! Sadly, I've seen this on other sites to hide the fact that they just produce dogs for money and they are nothing more than livestock to them. Nope, what you see on our daily blogs is the way we live everyday. If it's someone's pup or dog, they are usually identified as such - and we are proud of their accomplishments, too. Check them out:


Members of:

Interested in a Rescue? Check out these other rescue groups:

Get ready to go browse our pages, enjoy the cute snapshots, learn about the Rhodesian Ridgeback and from the links.
---
All dogs deserve wonderful, loving homes, unfortunately, there are few good homes out there, so please neuter your pets. Only those people who truly have the welfare and understanding of what a breed really looks like and what its true temperament is should undertake breedings.
---
[HOME] [OUR DOGS]