A new experience
Mood:
celebratory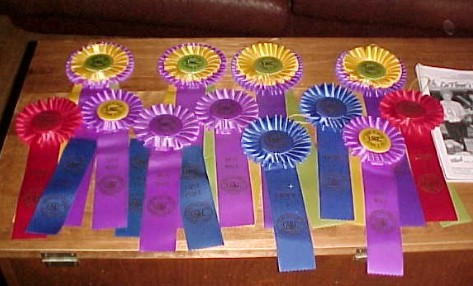 This past weekend, I took Guy to a UKC show over in MS. Having never been to one of their shows, I wasn't up on what to expect, but it turned out to be a positive experience for Guy. He had a blast, was a happy puppy, squirmed all over when the judge came up to him..... "Let me lick'um and get petted all over!" So excited that someone wanted to touch him.

Anyway, we got lots of ring time as there were two shows a day. By Sunday, Guy had going around the ring down pat... standing on his own - okay, but still being a squirmy, happy puppy on the judge's examination.
Got a boat load of rosettes though! Turns out that you need 100 points to be a UKC Champion, 3 of those wins must be with competition. Surprise! Guy got 100 points and 2 competition wins by virtue of beating the Afghan in the Sighthound Group. So, we only need one more competition win to compete the requirements.

Posted by kalaharirr at 9:51 AM CDT