Necklace Artist
Mood:
special
I had to post a photo of the two necklaces created by fellow Ridgebacker, Liz Druitt. Liz is a multi-talented gal who has taken up creating fabulous bead creations. Each one has a special something in it for the person getting the necklace.
These are two she has created for me. In the one on the left, the focal point are two pinecones from Cameroon. I love pinecones and have a collection of them. The greenish looking beads are commonly called African Jadite... appropriate for a Ridgeback owner! The light brown ones are bone beads - a total African feel to it, but casual, too.
The second is Bali silver, fresh water pearls with tiny blue stones to set them off. She made that for me to wear with a red, white and blue dress. Sets of my grey hair making it look silvery.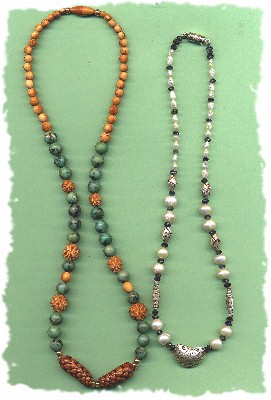 I'm hoping she'll begin to make a business out of this as everyone who sees them is impressed - as well they should be!
Posted by kalaharirr at 4:41 PM CDT
Updated: Saturday, 29 September 2007 4:52 PM CDT