Update from the fur kids
Mood:
happy
I just had to share this quick post from one of my puppy folks. Cute photos, too!
Hey Sandra. I have been meaning to write and let you know how Lulu was doing. I'm sending some pics, one of just lulu, one with both the boys with lulu, and one of Lulu with one of her friends.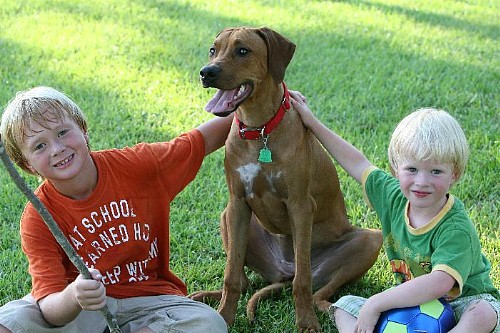 Last night. The boys were playing with her outside, and we were sitting on the back porch and my littlest, Jackson, and Lulu apparently got a little tired, so they both came and laid on the floor of the back porch together. I of course ran for my camera because it was so cute with my 2 babies all snuggled up on the concrete floor, but they were up and going again before I got back.
She is doing great, and everyone loves her. Scott takes her down to the pier sometimes at night and she hangs out with him while he fishes. She goes outside with the boys when they are playing on the swingset, and climbs up the rock wall to get in the fort with them. It is so funny. She mostly comes back down the rock wall, but once went down the slide. I'm not sure if she liked that too much, so I don't know if she'll do it again.
She has gone swimming with us some in the pool. I think she really liked it because if we are out there in the pool she will ease in on the steps all by herself.
She has made friends with some of the dogs in the neighborhood, and loves our next door neighbors dog Macky. He'll come over and they will race around playing and wrestling until they can't stand it anymore and collapse.
We took her up to my sister's camp in Carthage and she LOVED that. She ran with the 4-wheelers and splashed into the lakes. There was so much for her to explore. She's such a sweet dog and we just love her so much. I can't thank you enough for her. Well, I just wanted to give you an update, since i haven't done that in awhile. I hope you and the dogs are doing well. Talk to you soon.
Christi Taylor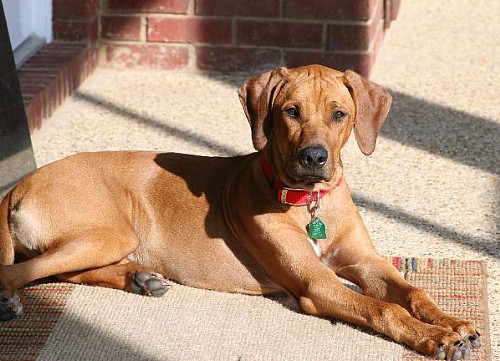 Posted by kalaharirr at 10:34 AM CDT