The Gift Giver
Mood:
mischievious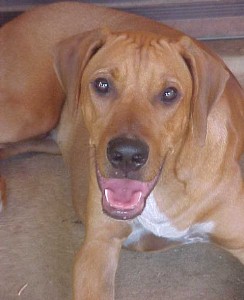 Guy, the new pup, loves to carry things around in his mouth. As soon as I come back from running errands, he has to grab up a toy/bone/something to bring it to me.... sorta like a welcome home gift.

Lately, this gift giving has extended to night time, too. Whenever another dog goes out during the night, Guy goes with them. When they come back in, he has to grab something and "present" it to me... never mind that I'm asleep!
I often wake up to find several toys and bones in the bed that he has brought during the night. Occasionally, there's something icky, too - like last night when I touched something wet and sticky right next to my face. Eeuwww! It was a green persimmon. Could'da been worst, I guess.

Posted by kalaharirr at 10:09 AM CDT
Updated: Wednesday, 10 October 2007 9:58 AM CDT