Recovery from Houston
On the weekend of 20-21st of July, I had Darla entered in the Houston shows. I really hate those shows! It's soooooo hot and the venue is not exhibitor friendly... you have to pay for crating space and if you aren't there early, you have to park in Timbuktu and hike to the entrance in the stifling heat and wind up looking like a dead daisy.
But, that's the only place around to find majors in RRs, so I went. I did manage some fun out of it though.. I first went down towards Galveston to Terry and Mark Matthews home to spend the first night and take them their new puppy - Scout.. the Border Collie in a Ridgeback body. Oh, they are gonna have fun with her... bet she's gonna be a great agility dog with all that drive and energy.
Terry is currently fostering some kittens and Scout had never met a cat... boy, she was facinated and provided us with tons of laughs.
Friday was the first show... Darla wasn't thrilled to be there... probably bad memories of being out with a handler who tried to starve a win into her... ( a long and mean story). I think the judge liked her, she just wouldn't happy up.
Saturday, Darla won... one major out of the way. A whole crowd of well wishers were there and afterwards we hiked all over the shopping venue that is a big part of the shows there.. kinda the shopping mecca for dog folks. Sure was glad to get back to Liz's and put my feet up and rest.
Sunday wasn't Darla's day either.... the judge liked longer bodied dogs.. that's okay, at least we got one major under our belt... now one to go.
Picked up Guy, who has been at Glen's in Houma, on the way back... He has turned into quite a handsome pup. Here he is the day after his 6 month birthday... He's still learning about stacking and showing, so standing somewhat still is a good thing!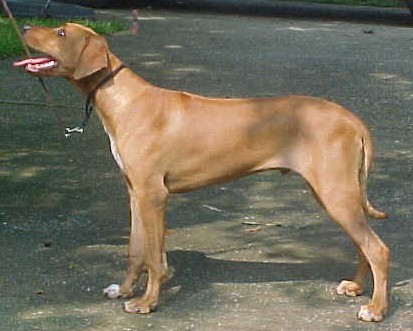 Posted by kalaharirr at 12:15 PM CDT
Updated: Saturday, 8 September 2007 9:55 AM CDT