The Joys of Breeding Ridgebacks - NOT!
Mood:
blue
When you are breeding show dogs, not all pups in a litter are show quality, even if they have a "show ridge", no kinks and a minimum of white. Structure, movement and attitude play a large part.
Then there is the bane of RRs - the dermoid sinus, a genetic defect in RRs that is linked to the ridge factor. It's in ALL Ridgebacks, so don't be conned by someone saying their dogs never have sinus... what they mean is they've never had one YET.
I'm bummed out because I found one in my potential show puppy. So tiny that it eluded me in the early days, but now that it's had time to "fill up", I could finally find it. I didn't find it until Friday and had it removed on Monday. So, she will be going to a great pet home within two weeks.
Hers was located on the neck, but they can be found usually anywhere between the head and beginning of the ridge and from the end of the ridge down the tail. Rarely, but possible, is a DS found in the ridge itself. You can read more about it on my page about the DERMOID SINUS.
Here's a post surgery photo of the location: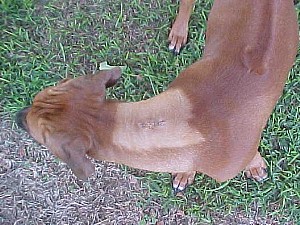 Posted by kalaharirr at 9:35 AM CDT